A group of students from the Missionvale Care Center have been participating in a Robotics program through CodeABot that teaches children to code and extend their reach toward a better future as they are taught new skills. The students experience hands on STEAM (Science, Technology, Engineering, the Arts and Mathematics) education in practical classes in electronics, design, mechanics, and programming.
The program meets once a week for a 2-hour session for six weeks to complete each module. The students progress through a series of modules starting with using small power tools such as drills, heat guns, and glue guns in order to learn design with electronic components. Several modules using various robotic systems are then used to teach coding principles and logical thinking. In the advanced tiers, the students combine all their knowledge and move to programming in the coding language of Python.
The first group of students from Missionvale Care Center completed 10 modules of 12 hours each. They then went on to focus on preparing for FIRST Robotics. The students entered as a rookie team into the First Lego League Robotics "Replay" Season. They managed to score the second highest table score of all the teams in their regional event. The team is now entered for the "Cargo Connect" robotics challenge which will take place May 22, 2022.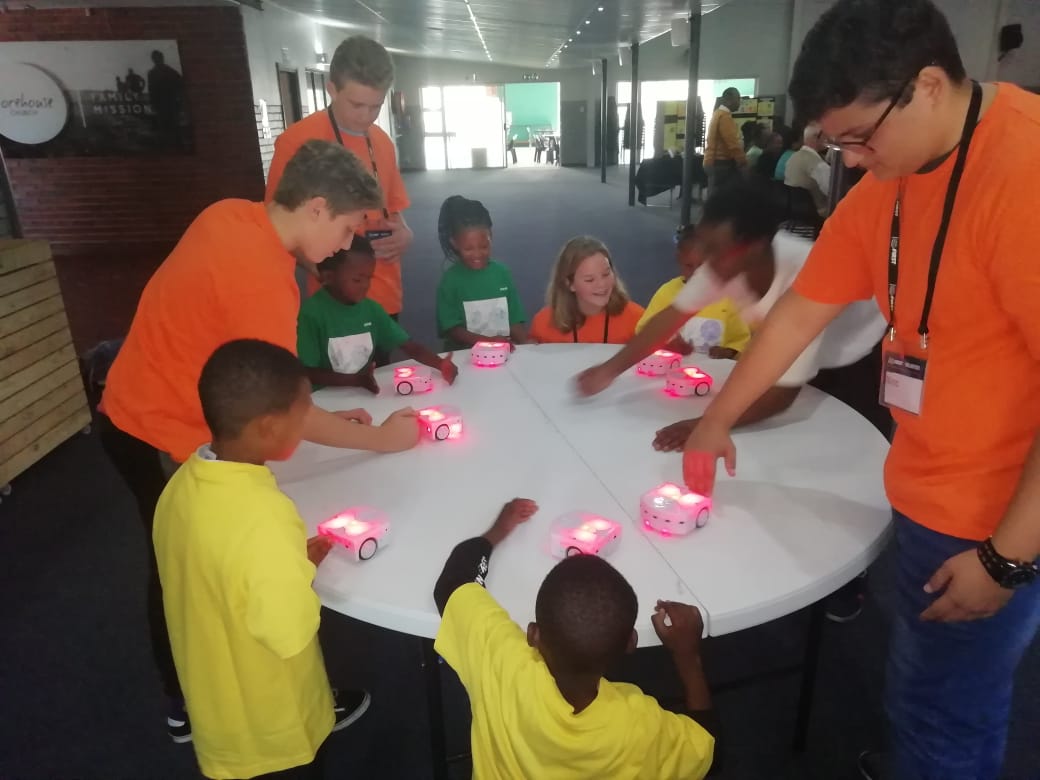 CodeABot volunteers show STEAM learners how much fun robots can be.
Our goal is to raise funds to be able to continue to sponsor this group as well as start another group of students in this learning pathway and a brighter future.
Your one-time $115 donation…
will provide a Missionvale student six weeks of training and an opportunity to continue progressing in the program.
Your one-time $345 donation…
will provide three students the opportunity to continue their progression in this program.
Your one-time $700 donation…
will sponsor a team of 10 students training for one month.
Your recurring monthly $75 donation…
will provide one student an on-going progression in the Robotics program.